Tuotekoodi: P4015
Man-At-Arms
– Heroic Master of Weapons
1. julkaisuversio
Uudelleen julkaisu
Oikea nimi: Duncan™
For two centuries, the Eternian weapons master and combat instructor to the royal family has been called the "Man-At-Arms®." Trained by the renowned tactician Dekker™ and a veteran of the Great Unrest, Duncan™ was asked by King Randor™ to step into this position and fortify his guard with an elite strike force, which he named The Masters of the Universe®. In addition to his skills in combat, Duncan™ is also a great inventor and helped construct an electronic version of the Power Sword® for Adam to use until he could unite both halves of the sword of King Grayskull™. Man-At-Arms® and his adopted daughter Teela® often scout the borders of Eternia® for signs of lurking evil.
Kahden vuosisadan ajan, Eternian kuninkaallisen perheen asemestaria ja taisteluvalmentajaaon kutsuttu "Asemieheksi". Dekkerin, tunnetun taktikon ja Suuren Levottomuuden veteraanin kouluttamaa Duncania pyydettiin kuningas Randorin toimesta tähän virkaan vahvistamaan kuninkaallisen kaartin erikoisjoukkoa, jolle hän antoi nimen Masters of the Universe. Taistelutaitojensa lisäksi, Duncan on myös suuri keksijä ja auttoi eletronisen Voimamiekan rakentamisessa Adamille, kunnes hän pystyisi yhdistämään molemmat kuningas Grayskullin miekan puolikkaat. Asemies ja hänen adoptiotyttärensä Teela usein partioivat Eternian rajamailla etsien merkkejä väijyvästä pahuudesta.
Mukana tulevat varusteet:
* nuija
* miekka
* sädepistooli
* 200x voimamiekka
* irrotettava haarniska
* extrapää
Loppuunmyynti aika: 41 min
Loppuunmyynti aika (uudelleen julkaisu): 3 päivää 5 tuntia
Oman hahmon saapumiseen kulunut aika (1. julkaisuversio): 11 päivää (7 arkipäivää)
Oman hahmon saapumiseen kulunut aika (uudelleen julkaisu): 20 päivää (14 arkipäivää)
Hahmokuvat on otettu uudelleen julkaisuversiosta.
Lähikuvat
Kokovartalokuvat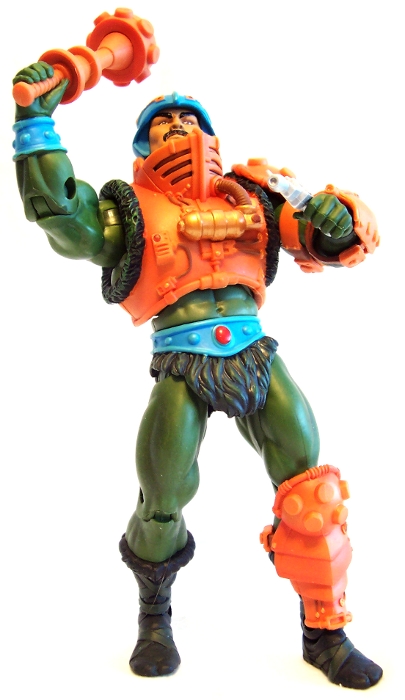 Lisävarusteet
Videoesittelyni hahmosta:
Suomi
Osa 1
httpv://www.youtube.com/watch?v=J3zlet9y6iI
Osa 2
httpv://www.youtube.com/watch?v=5iIzCLFcN8U
Osa 3
httpv://www.youtube.com/watch?v=PWBH8luB70U
In English
Part 1
httpv://www.youtube.com/watch?v=UW1kI3IWi7A
Part 2
httpv://www.youtube.com/watch?v=vMYJg5_2Ovc