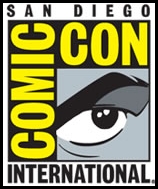 Tuotekoodi: R6274
Orko
– Heroic Court Magician
SDCC-myyntiversio (kuvat Mattycollector.com)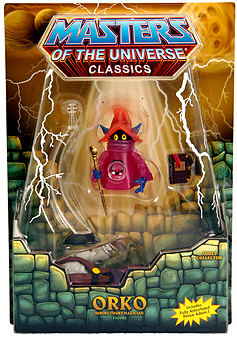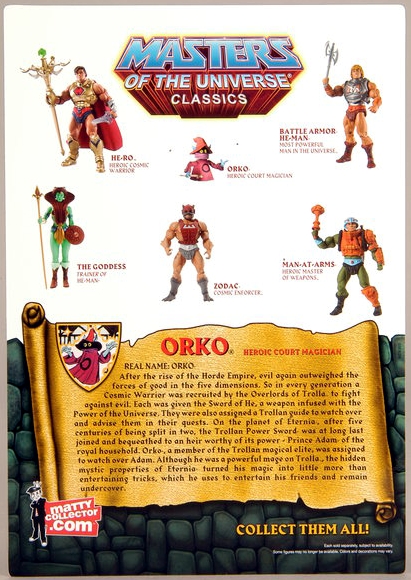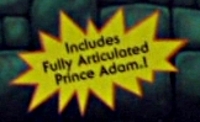 Mattycollector.com myyntiversio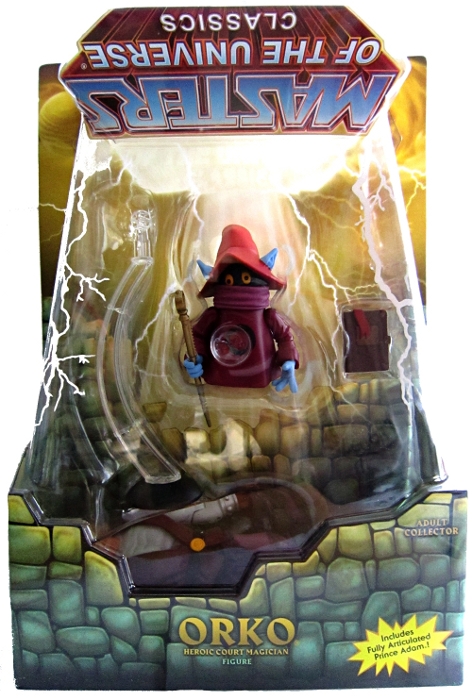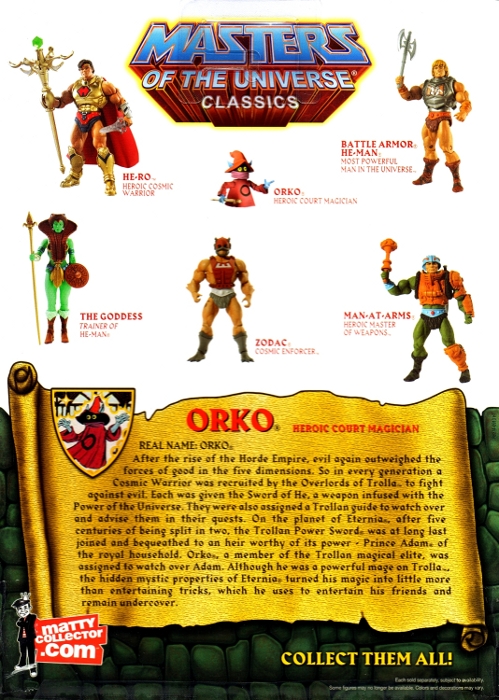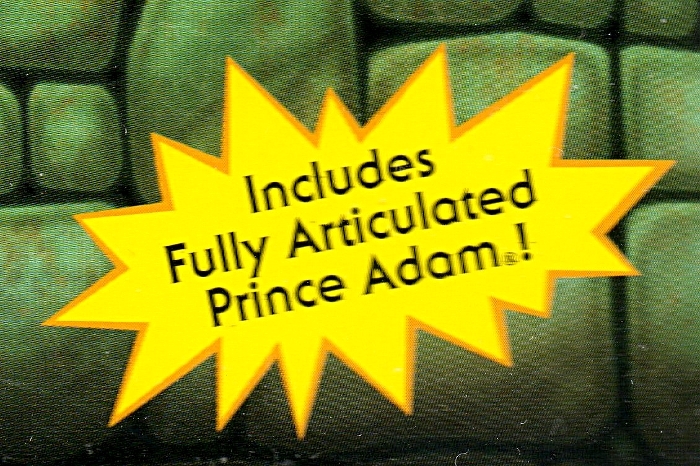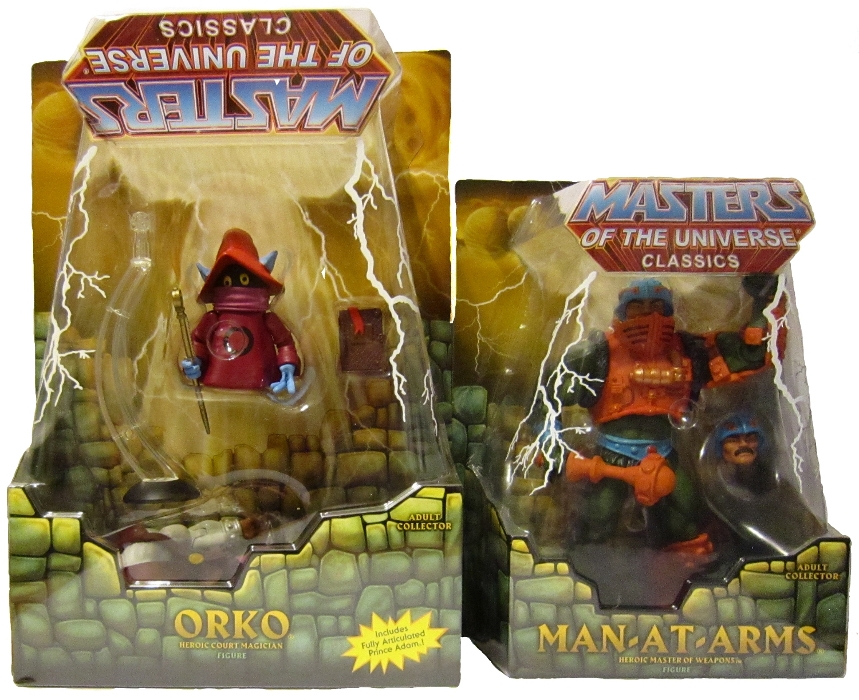 Orko on toinen kahdesta virallisesta vuoden 2010 MOTUC SDCC spesiaalituotteesta. Orko oli ostettavissa ainoastaan SDCC-messuilta 21.-25.7.2010, sekä 2.8.2010 Mattycollector.com -verkkokaupasta. SDCC- ja Mattycollector-myyntiversiot tästä hahmosta eroavat hieman toisistaan. Hahmon pakkaus on normaalia isompi, jotta Adam mahtuisi pakkauksen pohjalle makaamaan.
Oikea nimi: Orko®
After the rise of the Horde Empire, evil again outweighed the forces of good in the five dimensions. So in every generation a Cosmic Warrior was recruited by the Overlords of Trolla™ to fight against evil. Each was given the Sword of He, a weapon infused with the Power of the Universe. They were also assigned a Trollan guide to watch over and advise them in their quests. On the planet of Eternia®, after five centuries of being split in two, the Trollan Power Sword® was at long last joined and bequeathed to an heir worthy of its power — Prince Adam® of the royal household. Orko®, a member of the Trollan magical elite, was assigned to watch over Adam. Although he was a powerful mage on Trolla™, the hidden mystic properties of Eternia® turned his magiks into little more than entertaining tricks, which he uses to entertain his friends and remain undercover.
Hordi-imperiumin nousun jälkeen, pahuus hallitsi jälleen viittä ulottuvuutta. Joten Trollan Ylilordit rekrytoivat jokaisesta sukupolvesta yhden kosmisen taistelijan taistelemaan pahuutta vastaan. Jokaiselle annettiin He-miekka, ase johon on yhdistettynä maailmankaikeuden voima. Kosmisille taistelijoille määrättiin myös Trollalainen opas valvomaan ja neuvomaan heitä tehtävässään. Eternia-planeetalla, oltuaan viisi vuosisataa jaettuna kahtia, trollalainen Voimamiekka lopultakin yhdistettiin jälleen kerran ja luovutettiin sen sisältämien voimien arvoiselle perijälle – kuninkaallisen perheen prinssi Adamille. Trollan maagisen eliiitin jäsen Orko, määrättiin valvomaan Adamia. Vaikka hän oli voimallinen velho Trollassa, Eternian piilevät mystiset ominaisuudet muuttivat hänen taikansa lähes viihdyttävien temppujen tasolle. Hän käyttää taikaansa viihdyttääkseen ystäviään ja pitääkseen peitetehtävänsä salassa.
SDCC-versio (kuvat Mattycollector.com):
* Läpikuultava, muuttuu värittömäksi upotettaessa lämpimään veteen
* Loitsukirjan kanteen ilmestyy SDCC logo
Mattycollector-versio:
* Ei läpikuultava, ei muuta väritystä
* Kirjaan ei ilmesty logoa
Orkon mukana tulevat varusteet (molemmat myyntiversiot):
* Kirkas jalustin
* Taikasauva
* Loitsukirja
* Prinssi Adam, jolla tulee mukana: kokonainen ja puolikas voimamiekka, sekä vaihtoehtoinen pää
Pakkauksen hinta: $25,00
Loppuunmyynti aika (Mattycollector.com myynti): 57 min
Oman hahmon saapumiseen kulunut aika: 15 päivää (11 arkipäivää)
Kokovartalokuvat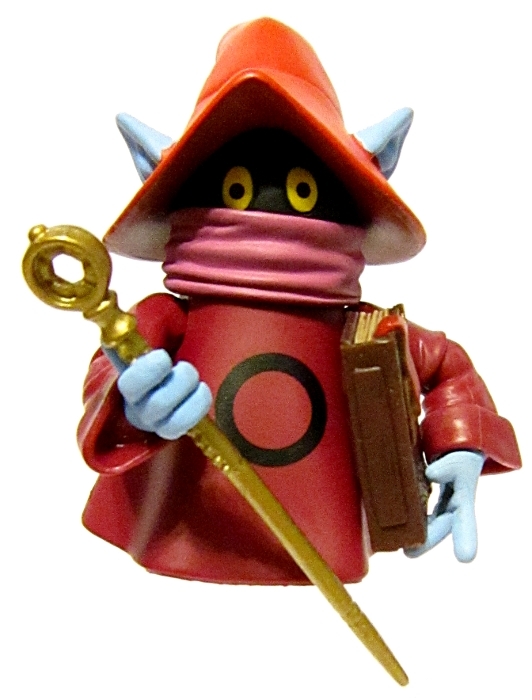 Varusteet
Videoesittelyni hahmosta:
Suomi
Osa 1
httpv://www.youtube.com/watch?v=0Z3i3hpK4GM
Osa 2
httpv://www.youtube.com/watch?v=MMd3KWUv6xE
Osa 3
httpv://www.youtube.com/watch?v=Fh89SeYlsE0
In English
httpv://www.youtube.com/watch?v=C3Gocq2pNXs