Tuotekoodi: T5799
Man-E-Faces
– Human… Robot… Monster! 
Oikea nimi: Perkaedo
Perhaps the greatest actor on Eternia®, Perkaedo, the Master of Disguise, performed before King Randor™ and Queen Marlena™ at Prince Adam's 18th birthday celebration. It was here that he drank a magic potion created by Skeletor®, that transformed him into a terrible monster with great strength loyal only to evil. With the help of He-Man® and the Sorceress®, Perkaedo was cured from this transformation, but the process left him forever split between not just two but three personalities. He now uses his powers to protect justice in his greatest role; as Man-E-Faces®, the man who is three warriors in one – fighting as a human, robot or monster!
Ehkäpä paras näyttelijä Eternialla, Perkaedo, valepukujen mestari, esiintyi kuningas Randorille ja kuningatar Marlenalle Prinssi Adamin 18-vuotissyntymäpäiväjuhlissa. Se oli täällä, missä hän joi Skeletorin luoman taikajuoman, joka muunsi hänet mahtavat voimat omaavaksi kauheaksi hirviöksi, ollen lojaali vain pahuudelle. He-Manin ja Velhottaren avulla, Perkaedo saatiin parannettua tästä muutoksesta, mutta kyseinen prosessi jätti hänet lopullisesti, ei kahteen, vaan kolmeen persoonallisuuteen jakautuneeksi. Nyt hän käyttää voimiaan suojellakseen oikeutta mahtavimmaassa roolissaan: Man-E-Facesina, miehenä joka on kolme soturia yhdessä paketissa – taistellen ihmisenä, robottina ja hirviönä!
Mukana tulevat varusteet:
* sädepistooli
* "salainen" varuste (extrapää jossa He-Man, Skeletor ja Orko naamat)
Loppuunmyynti aika: n. 3 päivää
Oman hahmon saapumiseen kulunut aika: 17 päivää (12 arkipäivää)
Hahmon saapumiseen kulunut aika (ei oma): 20 päivää (16 arkipäivää)
Lähikuvat
 

Kokovartalokuvat
 

Varusteet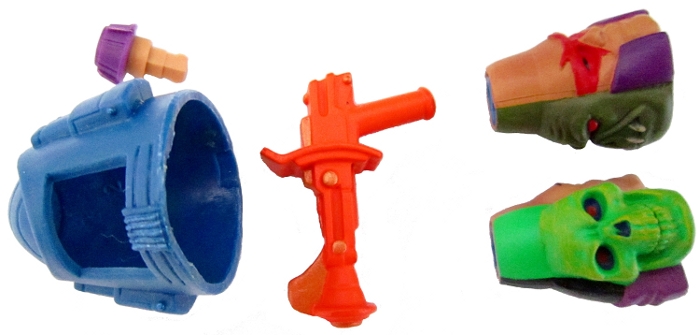 Videoesittelyni hahmosta:
Suomi
httpv://www.youtube.com/watch?v=AWW9mqOIgdA
In English
httpv://www.youtube.com/watch?v=YqvfmxaJHD4