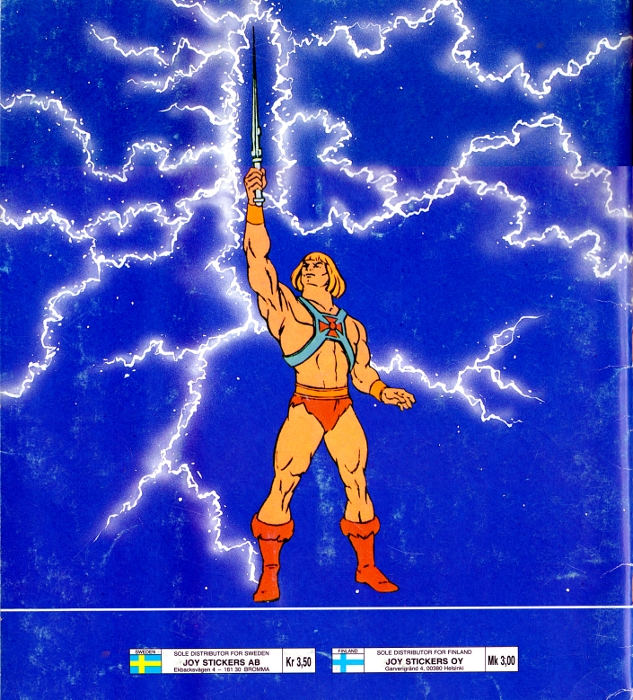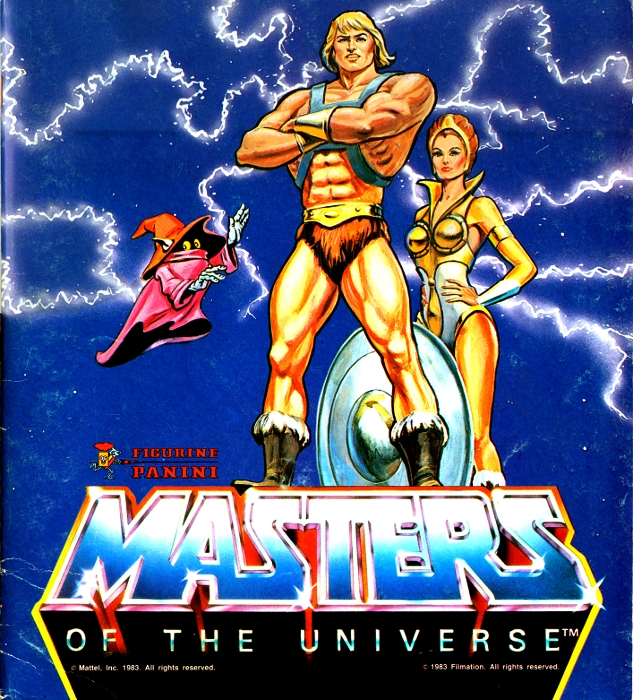 * Sivumäärä: 36
* Mustavalkoinen (mustaharmaa), sivut 1-16, 21-36
* värillinen, sivut 17-20 ja kaikki tarrat (1-216)
* Mitat 24 x 27 x 0,3 cm
* Hinta (alkuperäinen): 3,00 mk
* Maahantuoja: Joy Stickers oy
* Tuotantovuosi: 1983 (© Mattel Inc. & Filmation Studios)
* Painopaikka: Italia (Edizioni Panini S.P.A. – Modena)
* Nidottu
* Kieli: suomi
Tapahtuu Eterniassa (alkusanat)
Miekka kohotetaan kohti taivasta, kuin rukous korkeimmille jumalaisille voimille, kuin avunhuuto vaikeaan tehtävään, joka vaatii yli-inhimillisiä voimia. Miekkaa pitelee lihaksikas mies. Hän on luonteeltaan avulias ja hyväsydäminen samalla myös hyvin viisas ja älykäs: Tämän on HE-MAN. Hänessä on kaikki Eternia-planeetan hyvät ominaisuudet. Mutta ole varovainen: jossain pimeässä kolosessa, tällä ihmeellisellä planeetalla itää paholaisen kylvämä kauhun siemen. Se on hirvittävä muodostuma olioita ja on nimeltään SKELETOR. Hänen pääkallo-kasvoillaan on hirvittävä hymy, hänellä on voimakas ruumis ja taipumaton tahto elää vain pahalle. Nämä ovat ne muuttumattomat ominaisuudet meidän urhean He-Manin vastustajalla. Näiden kahden vastapuolen "Mestareiden" välillä on alkanut sota, jolla ei ole rajoja. Se on vertauskuva taistelusta pahan ja hyvän välillä. Nämä kohtalokkaat taistelut tullaan käymään niiden välillä, jotka taistelevat vapaudesta ja rauhasta, sekä niiden jotka tulevat pimeydestä ja varjoista ja jotka luovat epäsopua ja kurjuutta.
He-Mannin ja Skeletorin lisäksi on täällä myös koko joukko muita tärkeitä olentoja, kannattajia, jotka ovat jakaantuneet tasan hyvän ja pahan välillä. Tämän vuoksi sinä voit aina valita jommankumman puolen. Voit kannattaa miestä, joka rikkoo muurit päällään ja joka voittaa kaikki esteet, taikka olentoa joka pahansuopaisesti käyttää pirullisia taitojaan nähdäkseen peninkulmien päähän tai kaikkia muita olentoja. Kaikki nämä yhdessä muodostavat "MASTERS OF THE UNIVERSE", ainutlaatuisen ja ihmeellisen tarinan.
Todellinen ilo silmälle ja mielikuvitukselle. Kaikista SKELETORIN ja hänen kannattajiensa pahansuopaisista tempuista huolimatta hyvä voittaa aina niinkuin kaikissa saduissa.
Tarina, tarinaan kuuluvat tarrat, kirjaan liimatut tarrat (ostettu osittain täytettynä)  ja tarinan sisältämät sivut:
– Tuhoava timantti (Diamond Ray of Disappearance): tarrat #1-23 (1,3,5,6,7,8,10,12,18,20,22),
sivut 2-5
– Teela etsii… (Teela's Quest): tarrat #24-46 (26,29,33,38),
sivut 6-9
– Tulikiven kirous (The Curse of the Spellstone): tarrat #47-64 (47,54,55,56,57,59),
sivut 10-12
– Aikatunneli (The Time Corridor): tarrat #65-87 (65,69,71,73),
sivut 13-16
* Tuleeko He-Man onnistumaan: tarrat #88-123 (92,94,110,111,116,122),
sivut 17-20
– Lohikäärmeen hyökkäys (The Dragon Invasion): tarrat #124-147 (126,127,133,135,139,145,147),
sivut 21-24
– Kolossor herää (Colossor Awakes): tarrat #148-170 (152,158,159,162,163,164),
sivut 25-28
– Pedot tervarämeiköstä (The Creatures From the Tar Swamp): tarrat #171-193 (178,184,188,189,193),
sivut 29-32
– Celisen laulu (Song Of Celice): tarrat #194-216 (199,201,206,208,209),
sivut 33-36
Katsele tarrakirjaani: