Tuotekoodi: T5804
King Grayskull
– Heroic Ancestor of He-Man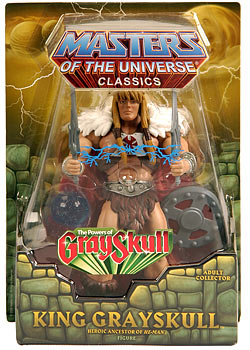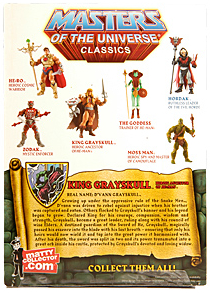 Marraskuussa 2010 ilmestynyt versio King Grayskull -hahmosta tuli perus-MOTUC-pakkauksessa (ei-elektroniikkaa sisältävässä peruspakkauksessa) ja hahmosta julkaistiin vain perusversio (SDCC patsas- tai henkivariantteja). Hahmon ja aseiden ulkoasu (väritys) on myös hieman erilainen, kuin SDCC-perusversiolla. Lisäksi hahmon pää, haarniska ja viitta ovat irrotettavat, sekä lisäksi hahmon viitan yläosa on päällystetty.
Oikea nimi: D'Vann Grayskull
Growing up under the oppressive rule of the Snake Men™, D'vann was driven to rebel against injustice when his brother was captured and eaten. Others flocked to Grayskull's banner and his legend began to grow. Declared King for his courage, compassion, wisdom and strength, Grayskull™ became a great leader, ruling along with his council of wise Elders. A destined guardian of the Sword of He, Grayskull™ magically passed his essence into the blade with his last breath — ensuring that only his heirs would now wield it and tap into the great power it harmonized with. After his death, the sword was split in two and its power transmuted into a great orb inside his castle, protected by Grayskull's devoted and loving widow.
Kasvettuaan Käärmemiesten vallan alla, D'Vann alkoi kapinoimaan epäoikeuden mukaisuutta vastaan Käärmemiesten kaapattua ja syötyä hänen veljensä. Lisää ihmisiä liittyi hänen puolelleen ja hänen legendansa alkoi kasvaa. Rohkeutensa, myötätuntonsa, viisautensa ja voimansa ansiosta hänet julistettiin kuninkaaksi ja Grayskullista tuli loistava johtaja, joka hallitsi yhdessä viisaiden Vanhimpien kanssa. He-miekan vartijana, Grayskull maagisesti siirsi olemuksensa miekkaan viimeisellä henkäyksellään – varmistaen, että vain hänen jälkeläisensä voisivat käyttää sitä. Hänen kuolemansa jälkeen miekka jaettiin kahtia ja sen voima siirrettiin hänen linnansa sisällä olevaan mahtavaan palloon, jota vartio Grayskullin rakastava leski.
Mukana tulevat varusteet (2010 versio):
* kokonainen miekka
* kaksi puolikasta miekkaa
* irrotettava haarniska/viitta
* voimapallo
Loppuunmyynti aika (2010-versio): 7 tuntia 45 min
Oman hahmon saapumiseen kulunut aika: 10 päivää (8 arkipäivää)
Videoesittelyni hahmosta:
Suomi
httpv://www.youtube.com/watch?v=aLTYBqR8ZUo
In English
httpv://www.youtube.com/watch?v=LONRI9w2Eqc