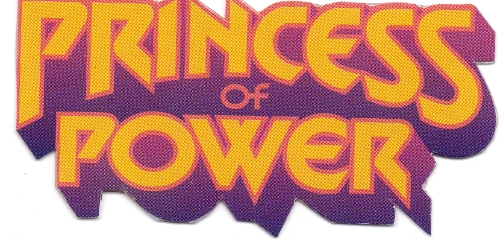 Tuotekoodi: R6289
She-Ra
– Most Powerful Woman in the Universe
Tämä versio She-Ra hahmosta on tullut tiensä päähän kevään 2011 uudelleen julkaisun myötä, eikä tätä versiota hahmosta enää uudellen julkaista.
Oikea nimi: Adora Of The House Of Randor
Channeling the combined Power of the Universe and the Wisdom of the Elders of Eternia®, Adora transforms into She-Ra™, the Most Powerful Woman in the Universe™. Her strength comes not from brute force but from sheer will and her cunning magical powers and healing abilities. She also has the power to communicate telepathically with animals. As both She-Ra™ and Adora, she helped lead the Great Rebellion of Etheria against the Horde invaders. Later, when Hordak™ found an escape to Eternia®, she followed him along with several of her friends and allies. Once there, the Princess of Power™ joined forces with the now renegade Masters of the Universe®, who without King Randor™ had become outcasts in their own land, fighting against Hordak's new tyranny!
Kanavoiden universumin ja Eternian Vanhimpien Viisauden yhteisen voiman, Adora muuttuu She-Raksi, maailmankaikkeuden mahtavimmaksi naiseksi. Hänen voimansa ei tule raa'asta voimasta, vaan tahdosta ja maagisista voimista ja parannuskyvyistä. Hänellä on myös kyky kommunikoida telepaattisesti eläinten kanssa. She-Ran ja Adoran muodoissa hän auttaa johtamaan Etherian Suurta Kapinaa Hordivalloittajia vastaan. Myöhemmin, kun Hordak löysi pakotien Eternialle, She-Ra seurasi häntä useiden ystäviensä ja liittolaistensa kanssa. Siellä, Mahdin Prinsessa yhdisti voimansa, nyttemmin luopioiksi muuttuneen Masters of the Universe -ryhmän kanssa, ketkä ilman kuningas Randoria, olivat joutuneet hylkiöiksi omassa maassaan, taistelussaan Hordakin uutta tyranniaa vastaan.
Mukana tulevat varusteet:
* voimamiekka
* kilpi
* kampakirves
* extra pää
* irrotettava 1980-luvun lelupäähine
Loppuunmyynti aika: 16 min
Loppuunmyynti aika (uudelleen julkaisu): n. 7 päivää
Loppuunmyynti aika (All-Star myynti): n. 19 päivää
Oman hahmon saapumiseen kulunut aika (1. julkaisuversio): 8 päivää (6 arkipäivää)
Lähikuva
Kokovartalokuvat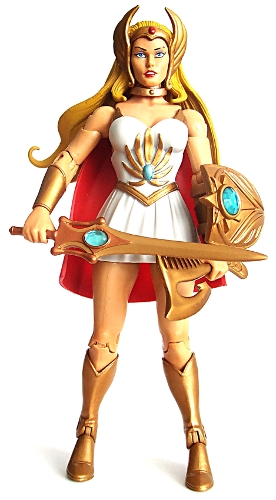 Varusteet
Videoesittelyni hahmosta:
Suomi
Osa 1
httpv://www.youtube.com/watch?v=fofM6zD6pTg
Osa 2
httpv://www.youtube.com/watch?v=IdS00BqYSFk
Osa 3
httpv://www.youtube.com/watch?v=WE3e0FFN1i4
In English
Part 1
httpv://www.youtube.com/watch?v=-QVJKGccFZ8
Part 2
httpv://www.youtube.com/watch?v=Gn9zkw9xTHs