Tuotekoodi: R6250
Moss Man
– Heroic Spy and Master of Camouflage
Hahmosta julkaistaan kaksi eri versiota, peitetyillä korvilla ja ilman. Syy edellä mainittuun on, että kun Mattel esitteli ensimmäisen kerran kuvia hahmon tuotantoversiosta, fanit eivät tykänneet siitä, että hahmon korvatkin olivat peitetty "sammaleella" ja tästä syystä Mattel valmisti loput hahmot peittämättömillä korvilla. Peitettykorvisia hahmojen valmistusmäärä on huomattavasti pienempi. Peittämättömillä korvilla oleva hahmoversio toimitetaan tilauspalvelun jäsenille.
Tämä on ensimmäinen hahmo, jonka pakkauksen sivulla ei ole ilmareikiä. Tämä mahdollisesti liittyy siihen, että hahmo on hajustettu.
Tätä hahmoa ei kannata kastella tai altistaa runsaalle kosteudelle, sillä se irrottaa hahmon päällysteen.
Oikea nimi: Kreann'ot n'Horosh™
Thought of for many centuries to be an urban legend, the creature called "Moss Man®" was, in fact, an ancient Eternian nature god and ally to King Grayskull™. During the rise of Skeletor® and the subsequent battles with the Snake Men™ and Horde invaders, Moss Man® often joined forces with the Masters of the Universe®, helping to protect freedom for all forms of life. He was instrumental in helping them win the Second Ultimate Battleground, using his powers over plant life and his "fur" of forest green to fool and frustrate his wicked foes
Moss Man, olento, jota luultiin vuosisatoja pelkäksi urbaaniksi legendaksi, olikin oikeasti muinainen Eternialainen luonnon jumala ja kuningas Grayskullin liittolainen. Skeletorin nousun ja sitä seuranneiden Käärmemiehiä sekä Hordeja vastaan sunntautuneiden taistelujen aikana, Moss Man usein taisteli yhdessä Masters of the Universe -ryhmän kanssa, auttaen puolustamaan kaikkien elämänmuotojen vapautta. Hän oli oleellisen tärkeä auttaessaan heitä voittamaan toisen Ultimaalisen Taistelukentän, käyttäen kasvivoimiaan ja metsävihreää "turkkiaan" hämätäkseen ja ärsyttääkseen vastustajiaan.
Mukana tulevat varusteet:
* nuija
* extra pää
* veitsi
* irrotettava köynnös, jossa kotelo veitselle
Erityisominaisuudet:
* hahmolla vihreä "karvoitus"
* hahmo tuoksuu mäntyiselle
Hahmon tuoksu on saatu aikaan sekoittamalla valmistusvaiheessa nestemäinen tuoksu ja nestemäinen muovi keskenään. Tämän pitäisi varmistaa, että tuoksu pysyy hahmossa pitkään.
Loppuunmyynti aika (päällystetyt korvat): 3 min
Loppuunmyynti aika (päällystämättömät korvat): 6 min
Loppuunmyynti aika (uudelleen julkaisu): 11 päivää 1 tunti 30 min
Loppuunmyynti aika (Black Friday / Cyber Monday 2011): ei loppuun myyntiä
Loppuunmyynti aika (Mad Matty Marh): ei loppuun myyntiä
Oman hahmon saapumiseen kulunut aika: 26 päivää (16 arkipäivää)
 Lähikuvat
 Kokovartalokuvat
Varusteet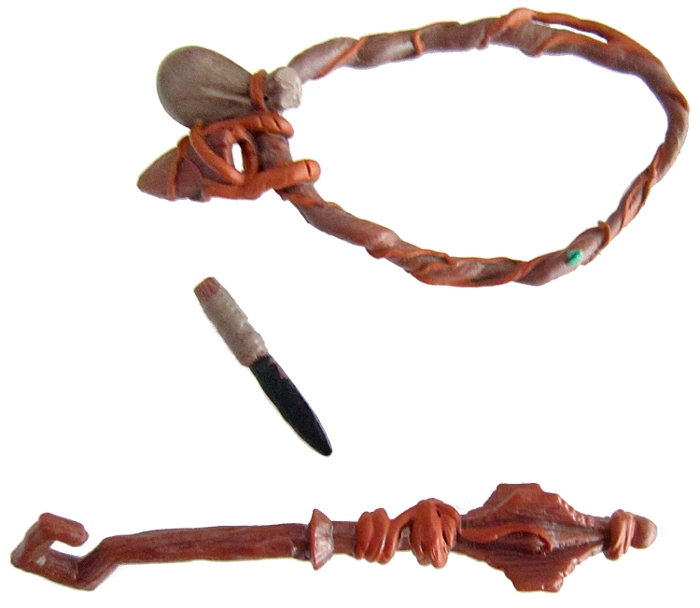 Videoesittelyni hahmosta:
Suomi
httpv://www.youtube.com/watch?v=nZ-Akb38hOQ
In English
Part 1
httpv://www.youtube.com/watch?v=9B7j8vza_0U
Part 2
httpv://www.youtube.com/watch?v=OFgwcY7mOTw