DCUC vs. MOTUC
– Bizarro vs. Battle Armor Faker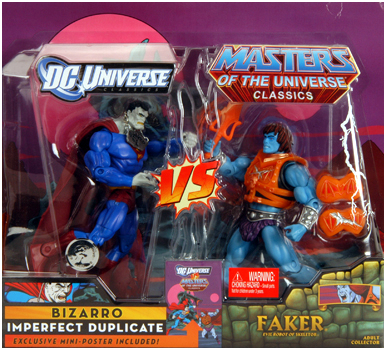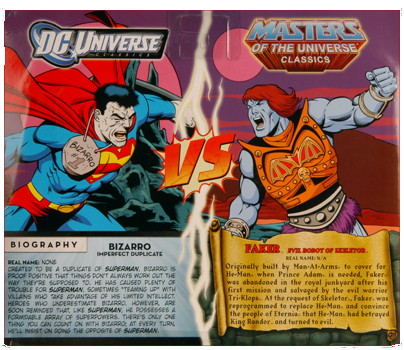 Heinäkuussa julkaistu Battle Armor Faker vs. Bizarro 2-pack, jota myytiin ainoastaan Toys R Us -sivustolla (Yhdysvaltain sivusto) heinäkuun 2011 lopulla sekä SDCC 2011 messuilla. Pakettien tarkoituksena oli saada levitettyä tietoa MOTUC hahmosarjasta ja näin ollen houkutella lisää faneja sarjan pariin.
Battle Armor Faker – Evil Robot of Skeletor
Oikea nimi: N/A
Originally built by Man-At-Arms® to cover for He-Man® when Prince Adam® is needed, Faker was abandoned in the royal junkyard after his first mission and salvaged by the evil warrior Tri-Klops®. At the request of Skeletor®, Faker was reprogrammed to replace He-Man and convince the people of Eternia® that He-Man had betrayed King Randor® and turned to evil.
Rakentanut alunperin Asemies korvaamaan He-Man, kun Prinssi Adamilla on muita kiireitä. Faker hylättiin ensimmäisen tehtävänsä jälkeen kuninkaalliselle kaatopaikalle ja sen sieltä pelasti pahuuden taistelija Tri-Klops. Skeletorin pyynnöstä, Faker uudelleen ohjelmoitiin korvaamaan He-Man ja vakuuttamaan Eternian kansa siitä, että He-Man pettänyt kiuningas Randorin ja kääntynyt pahuuden puolelle.
Bizarro – Imperfect Dublicate
Oikea nimi: None
Created to be a duplicate of Superman, Bizarro is proof positive that things don't always work out the way they're supposed to. He has caused plenty of trouble for Superman, sometimes "teaming up" with villains who take advantage of his limited intellect. Heroes who underestimate Bizarro, however, are soon reminded that, like Superman, he possesses a formidable array of superpowers. There's only one thing you can count on with Bizarro; at every turn, he'll insist on doing the opposite of Superman.
Teräsmiehen kaksoisolennoksi luotu Bizarro on todiste siitä ettei positiiviset asiat aina mene kuin niiden pitäisi. Hän on aiheuttanut paljon päänvaivaa Teräsmiehelle, joskus liittuoutuen pahiksien kanssa, jotka käyttävät hyväkseen hänen rajoittunutta älyään. Sankarit, jotka aliarvioivat Bizarron, saavat pien muistutuksen siitä, että kuten Teräsmies, myös hänellä on käytössään hurja joukko supervoimia. On vain yksi asia mihin voit luottaa Bizarron kohdalla: Että hän haluaa välttämättä tehdä kaiken päinvastoin kuin Teräsmies. 
Battle Armor Fakerin mukana tulevat varusteet:
* irrotettava tasiteluhaarniska ja kolme vaihdettavaa rintalaattaa
* oranssi miekka
Aquamanin mukana tulevat varusteet:
* kaulaketju