DCUC vs. MOTUC
– Aquaman vs. Mer-Man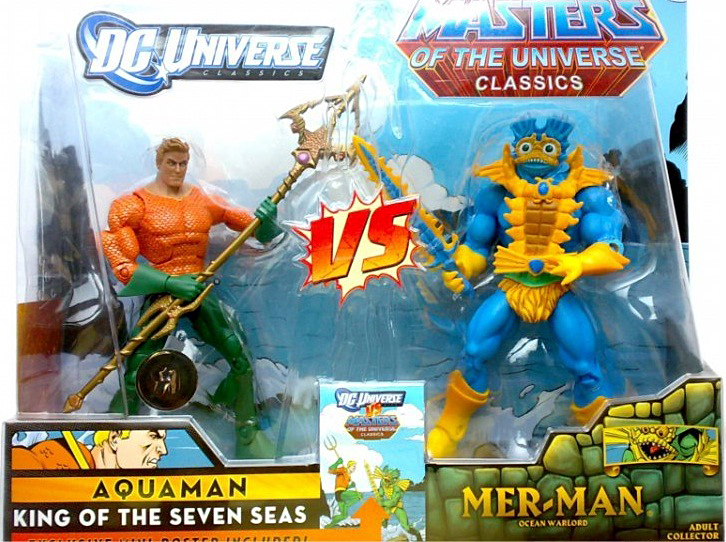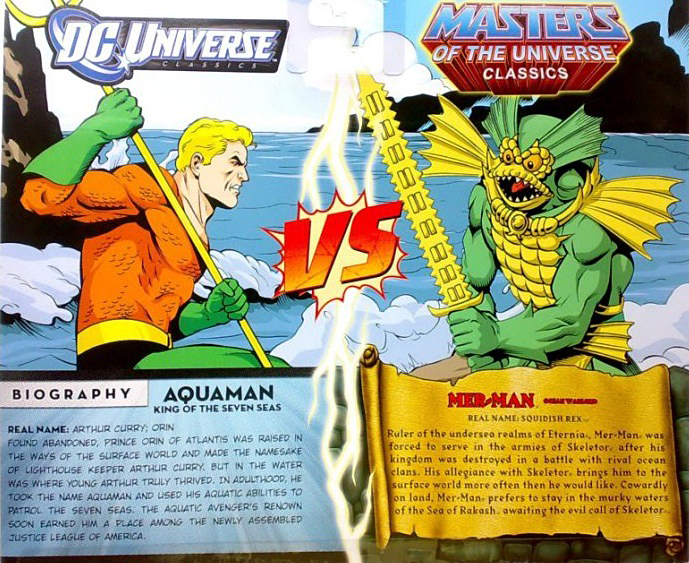 Keväällä 2011 päivänvalon näki Mer-Man vs. Aquaman 2-pack, jota myytiin ainoastaan Toys R Us -myymälöissä Yhdysvalloissa ja tietyin paikoin myös sen ulkopuolella. Tämä on yksi 6 MOTU Vs. DCUC 2-packista, jotka julkaistiin vuoden 2011 aikana. Pakettien tarkoituksena oli saada levitettyä tietoa MOTUC hahmosarjasta ja näin ollen houkutella lisää faneja sarjan pariin.
Mer-Man – Ocean Warlord
Oikea nimi: Squdish Rex
Ruler of the undersea realms of Eternia®, Mer-Man® was forced to serve in the armies of Skeletor® after his kingdom was destroyed in a battle with rival ocean clans. His allegiance with Skeletor® brings him to the surface world more often then he would like. Cowardly on land, Mer-Man® prefers to stay in the murky waters of the Sea of Rakash™, awaiting the evil call of Skeletor®.
Eternian merenpinnan alaisten valtakuntien hallitsija, Mer-Man pakotettiin palvelemaan Skeletorin armeijassa, sen jälkeen kun hänen kuningaskuntansa oli tuhoutunut taistelussa kilpailevien valtameriklaanien kanssa. Hänen uskollisuustensa Skeletoria kanssa tuo hänet pinnan päälliseen maailmaan useammin kuin hän haluaisi. Kuivalla maalla pelokas Mer-Man haluaa mieluiten pysytellä Raksh-meren synkissä vesissä odottaen Skeletorin ilkeää kutsua.
Aquaman – King of the Seven Seas
Oikea nimi: Arthur Curry; Orin
Found abandoned, prince Orin of Atlantis was raised in the ways of the surface world and made the namesake of lighthouse keeper Arthur Curry. But in the water was where young Arthur truly thrived. In adulthood, he took the name Aquaman and used his aquatic abilities to patrol the seven seas. The aquatic avenger's renown soon earned him a place among the newly assembled Justice League of America.
Hylättynä löydetty, prinssi Orin kasvatettiin maankamaralla elävien tavoille ja hänestä tehtiin majakan vartijan Arthur Curryn kaima. Mutta vedessä nuori Atrhur todella loisti. Aikuisena hän otti nimen Aquaman ja käytti vedellisiä kykyjään partioidakseen seitsemän meren aluetta. Vedellisen kostajan maine pian toi hänelle paikan Justice League of America:n riveissä.
Mer-Manin mukana tulevat varusteet:
* korallimiekka
* irrotettava haarniska
Aquamanin mukana tulevat varusteet:
* atrain