DCUC vs. MOTUC
– Hawkman vs. Stratos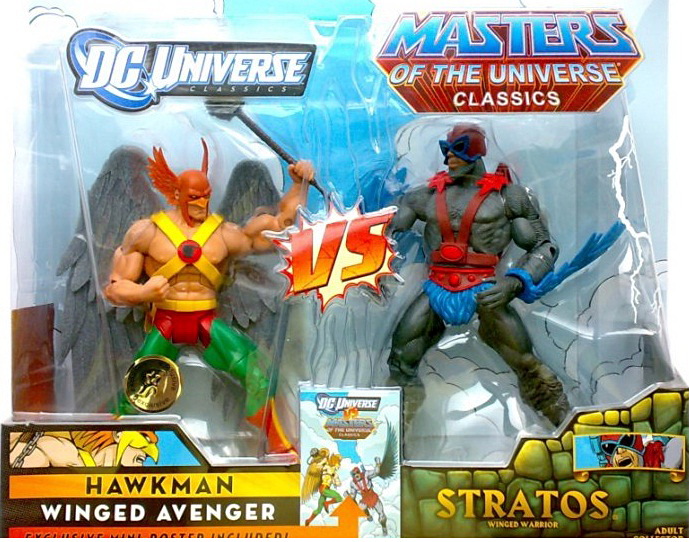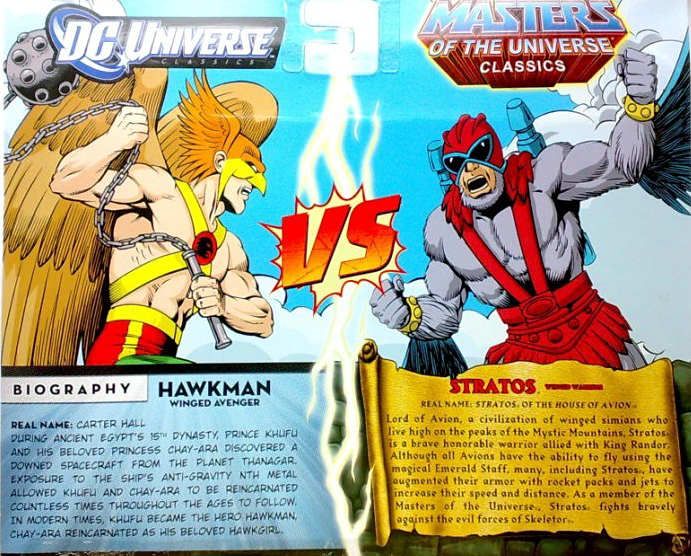 Keväällä 2011 päivänvalon näki Stratos vs. Hawk 2-pack, jota myytiin ainoastaan Toys R Us -myymälöissä Yhdysvalloissa ja tietyin paikoin myös sen ulkopuolella. Tämä on yksi 6 MOTU Vs. DCUC 2-packista, jotka julkaistiin vuoden 2011 aikana. Pakettien tarkoituksena oli saada levitettyä tietoa MOTUC hahmosarjasta ja näin ollen houkutella lisää faneja sarjan pariin.
Stratos – Winged Warrior
Oikea nimi: Stratos® of the House of Avion
Lord of Avion, a civilization of winged simians who live high on the peaks of the Mystic Mountains, Stratos® is a brave honorable warrior allied with King Randor™. Although all Avions have the ability to fly using the magical Emerald Staff, many, including Stratos®, have augmented their armor with rocket packs and jets to increase their speed and distance. As a member of the Masters of the Universe®, Stratos® fights bravely against the evil forces of Skeletor®.
Avionin, siivekkäiden kädellisten, jotka elävät  Mystisten Vuorten korkeilla huipuilla, siviilisaation valtias, Stratos on urhea kunnioitettava kuningas Randorin kanssa liitossa oleva taistelija. Vaikka Avionilaisilla on kyky lentää maagista Smaragdi Sauvaa käyttäen, useat Avionilaiset, Stratos mukaanlukien, ovat lisänneet haarniskoihinsa rakettimoottorit lisätäkseen nopeuttaan ja etäisyyttä. Masters of the Universe -ryhmän jäsenenä, Stratos taistelee urheasti Skletorin pahoja voimia vastaan.
Hawkman – Winged Avenger
Oikea nimi: Carter Hall
During ancient Egypt's 15th dynasty, prince Khufu and his beloved princess Chay-Ara discovered a downed spacecraft from the planet Thanagar. Exposure to the ship's anti-gravity NTH metal allowed Khufu and Chay-Ara to be reincarnated countless times throughout the ages to follow. In modern times, Khufu became the hero Hawkman, Chay-Ara reincarnated as his beloved Hawkgirl.
Muinaisen Egyptin 15. dynastian aikaan, prinssi Khufu ja hänen rakastettu prinsessansa Chay-Ara löysivät haaksirikkoutuneen avaruusaluksen Thanagar-planeetalta. Altistuminen aluksen antigravitaatio metallille antoi Khufulle ja Chay-Aralle kyvyn uudelleensyntyä lukemattomia kertoja läpi aikojen. Nykyajassa, Khufusta tuli sankari Hawkman, Chay-Ara uudelleensyntyi hänen rakastetukseen Hawngirl:ksi.
Stratoksen mukana tulevat varusteet:
– Ei varusteita
Hawkmanin tulevat varusteet:
*nuija